Embracing the future, honoring the past
The River Point District neighborhood perfectly blends progressive thinking with reverence for the past. It honors La Crosse's legacy as a booming river town, yet strives to support the city's identity as a forward-thinking, integrated community of regional and international influence.
A site significant to La Crosse's past, present and future
The River Point District neighborhood brings unlimited possibilities to a site rich in history. Revered by Native Americans for millennia, the site has always been abundant in native flora and fauna. The arrival of European settlers brought more trade and eventually transformed the point into a booming hub for river and rail commerce (logging especially).
Throughout the twentieth century, the land housed a variety of industrial endeavors. In the mid-1990s, the city of La Crosse renewed its efforts to reclaim the injured property and improve its use and position within the community. The creation of River Point District effectively restores economic viability and environmental sustainability to one of La Crosse's most important geographical areas.
Land and history worth protecting
The River Point District shoreline overlooks the shipwreck site of the War Eagle, a Civil War era, sidewheel riverboat that sank in flames into the Black River in 1870. River Point District is also near the historical Peavey Site (named after the multi-purpose peavey logging tool), which housed a small number of artifacts pre-dating the settlement of La Crosse. River Point District will honor and help preserve both historical sites as well as the integrity of the overall area.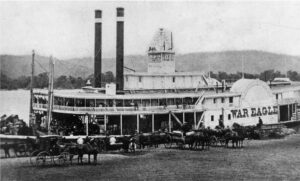 Careful preparation to create remarkable results
The City of La Crosse has been working toward creating the River Point District neighborhood since 1995, when it began buying parcels of land for development within the larger overall site. Throughout the following years, the Redevelopment Authority of the City of La Crosse has acquired and remediated the three primary former industrial properties within the project area and raised the site a minimum of two feet above the 100-year flood plain elevation.
Featured
September 11, 2023
Take a Look!
Watch new video of the prepping process at River Point District.  September 2023