Work. Live. Enjoy.
River Point District is a forward-thinking vision for a vibrant, contemporary, mixed-use waterfront neighborhood where abundant natural surroundings create opportunities for unique community amenities and inspiring development.
Located in the heart of La Crosse—at the confluence of the Mississippi, Black and La Crosse Rivers—River Point District will establish a dynamic, sustainable neighborhood within the area's overall urban fabric and seamlessly connect the community to the rivers and downtown. More than 800 housing units will offer all people comfortable, accessible homes. River Point District will also help strengthen the local economy with dedicated locations for offices, shops and restaurants.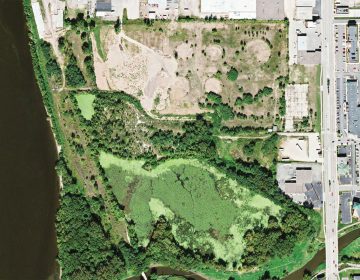 Featured
May 22, 2020
City of La Crosse Redevelopment Authority approves proposal for work to begin on River Point District
LA CROSSE, Wis., May 21, 2020 – The City of La Crosse Redevelopment Authority (RDA) has approved a proposal by engineering firm Short Elliott Hendrickson (SEH) for work to begin on the River Point District neighborhood. Work will be done on the mixed-use waterfront neighborhood in a phased approach with phase 1 including the placement […]
Designed for sustainability and community wellness
River Point District incorporates principles of sustainable urban design and illustrates community resiliency through the strategic revitalization of a once-inhospitable, 65-acre, former industrial site.
The neighborhood honors La Crosse's legacy as a booming river town (and helps preserve the nearby War Eagle shipwreck site), yet strives to support its identity as a progressive, integrated community of regional and international influence.
– Strategic project design and engineering respect and conserve the area's natural resources and ecological balance
– A densely planned neighborhood, plentiful recreational trails and proximity to community resources increase opportunities for physical and social activity, while helping to decrease overall carbon emissions
– Dedicated green spaces and gardens offer daily opportunities to enjoy the health benefits of nature close to home
– Arts events and recreational activities provide ongoing opportunities for residents and visitors alike to learn, grow and connect with others
"Each and every one of our neighborhoods has the potential to be a wonderful place to live, work and enjoy recreation. Together we can make La Crosse the best place we want it to be."