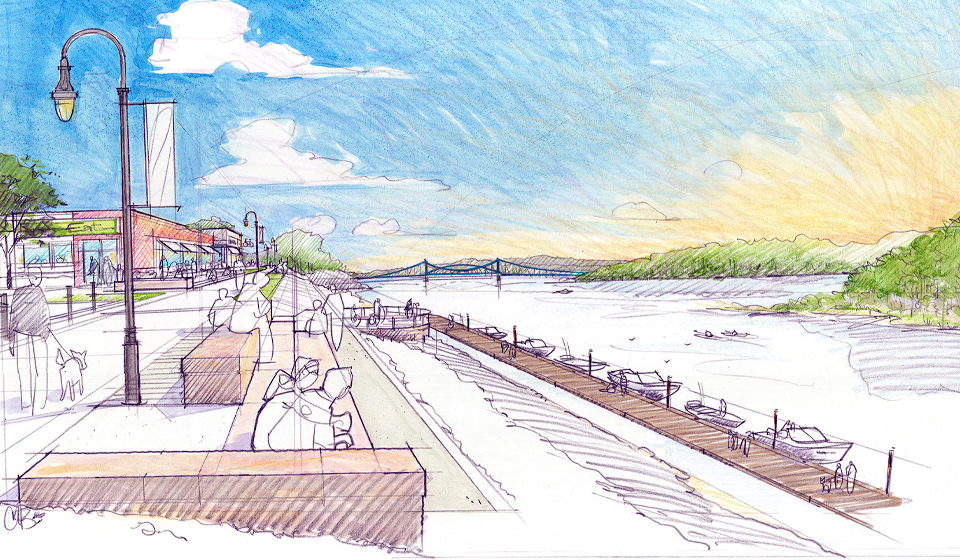 Big plans for waterfront in River Point District
LA CROSSE, Wis.- Imagine the possibilities.
You're enjoying an afternoon on the river, but you want to grab a bite to eat. You're able to dock your boat and have almost instant access to restaurants and shopping, and you're just a short walk from all that downtown La Crosse has to offer.
La Crosse Parks and Recreation Director Jay Odegaard is excited about the many opportunities that await in River Point District. The parks department is ultimately responsible for the visioning of the waterfront in the emerging development.
"Hands down, the number one use is pedestrian traffic," said Odegaard. "We want to make sure we can really capture the best kind of physical outlay of this property and then add the amenities like restrooms and lighting… really so we can use this as a corridor for people to move back and forth in."
The River Point District master plan prioritizes public space and access, based on input received from the community during visioning sessions. It also capitalizes on the physical connections to the vibrant, walkable downtown business district and nearby Riverside Park.
Odegaard said one of his goals is to create a walkway so people can travel the entire length of town along the water.
The waterfront development in River Point District will be similar to what's already been done in Riverside and Pettibone Parks, according to Odegaard.
"Just having that open green space and park atmosphere for people to come enjoy lunch or have that 15–20 minute walk on their lunch break during the day and get out and see the boats, see the water and just enjoy what we have here."
The city is also looking at putting in a mix of transient and permanent boat slips along with disperse fishing platforms.
"The ability for people to come to your restaurant by boat really is an attraction that draws people from as far away as neighboring communities in Winona and down in Lansing, Iowa. We know they're willing to travel that distance by boat because they're able to enjoy the boat ride but then they have that destination of a restaurant," said Odegaard. "It brings a whole other level of accessibility."
The parks department is also working to incorporate artwork throughout the development.
"One of the amenities we're really focusing on… is a sculpture park. And the beauty of that sculpture park is it can still allow for that natural green space… while adding really interesting, exciting pieces that people can look at."
River Point District is a vibrant, contemporary mixed-use waterfront neighborhood found at the confluence of the Mississippi, Black and La Crosse Rivers. Its location and connections with downtown will enable a healthy work/life balance with easy access to green space, natural resources, community events, great food and more.
Learn more about this exciting waterfront development and contact project leaders:
Andrea Trane
Director of Planning, Development and Assessment
608-789-8321
[email protected]
Blair W. Williams
President, Wired Properties
414-803-9699
[email protected]