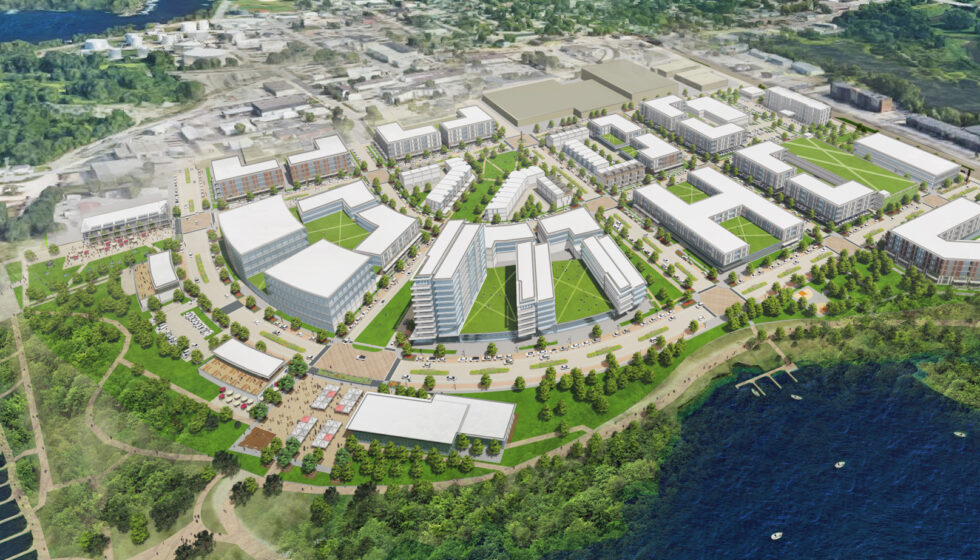 F Street Development Group has joined the redevelopment of River Point District
Milwaukee, WI – As of February 23, 2021, F Street Development Group (FSDG) has entered into a Planning Option Agreement with the Redevelopment Authority of La Crosse (RDA) to develop a parcel in their recently envisioned River Point District. River Point District is a forward-thinking vision for a vibrant, contemporary, mixed-use waterfront neighborhood in La Crosse, WI, where abundant natural surroundings create opportunities for unique community amenities and inspiring development. In keeping with the master plan for the neighborhood, FSDG is proposing an active, mixed-use development that would generate economic activity, while increasing the assessed land value.
The Planning Option will allow FSDG an 18-month timeframe for an exclusive look at the identified block, listed as "F" on the master plan, to determine the feasibility of constructing a mixed-use development that will incorporate rental units and commercial retail space. At the conclusion of the exclusive look period, the parties will have negotiated a final sale agreement for the land, which is currently owned by the RDA, and have executed a Development Agreement.
In preparation for future development, engineering firm Short Elliott Hendrickson (SEH) has been contracted, and their work is expected to be completed by Spring of 2021. Once completed, the site must settle for 12 months before construction can begin. Scott Lurie, owner of F Street Group and partner in F Street Development Group said, "We're thrilled to be a part of the reimagining of River Point District, which acts as an entry point for visitors and residents to our amazing state." Adding, "The opportunity to further enhance and define the appeal of cities like La Crosse and others across the state has been overwhelming and we are humbled to be a part of so many amazing projects."
The city of La Crosse has been working toward creating River Point District since 1995 when it began buying parcels of land along the Mississippi River for development within the larger overall project site. Throughout its development, the River Point District neighborhood project has been positively impacted by grants from the Wisconsin Department of Natural Resources and Department of Transportation to support ongoing sustainable, community-minded planning and growth.
About F Street Development Group
Through world-class development and visionary design, F Street Development Group provides investment opportunities in commercial real estate through development. Our vision is to be a leader in the real estate investment and development community recognized for our passion, commitment to excellence, and creativity. We are involved in all stages of the development and construction process. We own, lease, build to suit, and sell office, retail, residential and industrial properties.
###
Contacts
Mike Doney
VP, Marketing
F Street Group
414-975-1189
[email protected]
For additional information about River Point District, please contact:
Andrea Trane
Director of Planning, Development, and Assessment for the City of La Crosse
608-789-8321
[email protected]
Adam Hatfield
Chair
City of La Crosse Redevelopment Authority
[email protected]