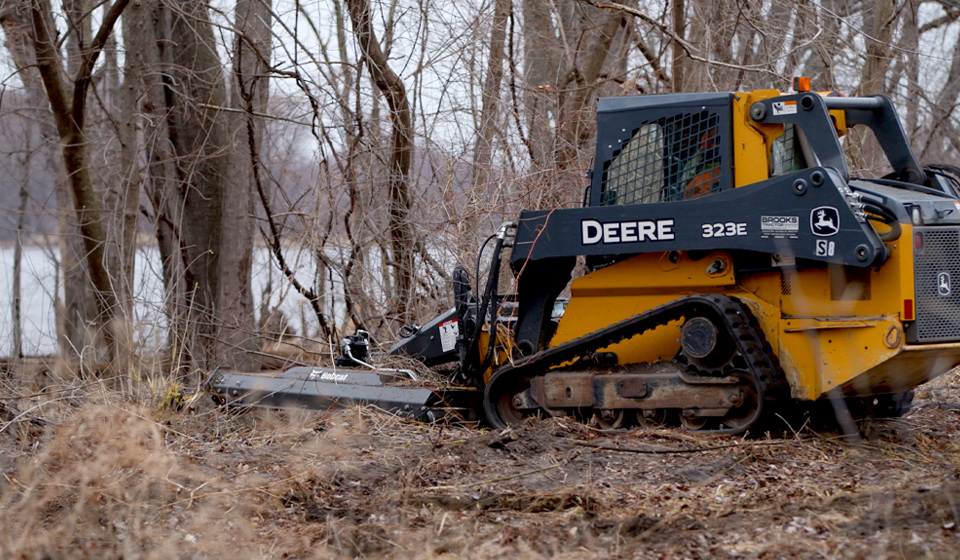 Invasive plant removal underway at River Point District
LA CROSSE, Wis., April 12, 2022 – Removal of invasive and undesirable brush and trees is currently underway at River Point District. The City of La Crosse Parks, Recreation & Forestry Department has contracted Les Manske & Sons Excavating & Landscaping of Stoddard, Wisconsin, for the project, which involves the floodplain forest and emergent wetland located at the site's southwest corner. The process, scheduled for completion by April 14, will ultimately improve diverse native flora and habitat and reestablish this natural area as a wildlife refuge with a mature tree canopy and low-groundcover native plant species.
Essential for successful ecological restoration and neighborhood growth
Controlling invasive plant species such as giant reed, reed canary grass, buckthorn and honeysuckle within River Point District is essential for continued ecosystem health, site sustainability and neighborhood beauty. The City of La Crosse recognizes the potential of this natural space within the neighborhood and plans to add a walking trail amidst the native vegetation.
A significant step toward creating a healthy, beautiful neighborhood
Throughout the process, Manske will remove invasive plants, shrubs and trees smaller than 6 inches in diameter and haul cleared debris from the site. Resulting areas of bare ground will be seeded with native plants later this spring. Manske will maintain as many mature trees on the property as possible, and leave water's-edge dead trees in place, as they are a preferred habitat for American bald eagles.
River Point District is already home to various native plant species. Leah Miller, outdoor recreation and conservation specialist with the City of La Crosse Parks, Recreation & Forestry Department, indicated that the city plans to cultivate those species to help with stormwater filtration, erosion prevention and site beautification. Miller also reported that the city will add several species of native plants—likely grasses and wildflowers.
About River Point District
Located just north of historic downtown La Crosse, Wisconsin, River Point District is an emerging, 65-acre neighborhood located at the confluence of the Mississippi, Black and La Crosse Rivers. River Point District will be a visionary, mixed-use waterfront neighborhood where natural surroundings create opportunities for unique amenities and inspiring development. This neighborhood will connect the community to the rivers and downtown, and include 800+ residential units, numerous business locations, green spaces and more. The city recently filled and raised much of the site at least two feet above the 100-year flood plain elevation. For more information, visit riverpointdistrict.com or contact Leah Miller at [email protected].